Villa Layout
Villa Seascape's double-height living room, media room and three guest bedrooms occupy a contemporary two-storey ocean-facing building. The fourth guest bedroom is housed on the upper floor of the Garden Cottage, a separate building to the rear of the main house. The service kitchen is situated on the ground floor of the Garden Cottage. From the entrance, steps across a courtyard pond lead directly into the living space with open-plan guest kitchen to the left, ground-level bedroom suite and guest cloakroom to the right and, down a few steps, the main living room. This opens onto a dining terrace, beyond which is the swimming pool, sun terrace, pool bar and beach edge seating around a fire-pit. Off the living area is the media room, which can be set up as a fifth bedroom with attached bathroom. Two further guest bedrooms flank the upper level, linked by an aerial bridge that also gives access to the netting-floored mezzanine above the entrance and kitchen area.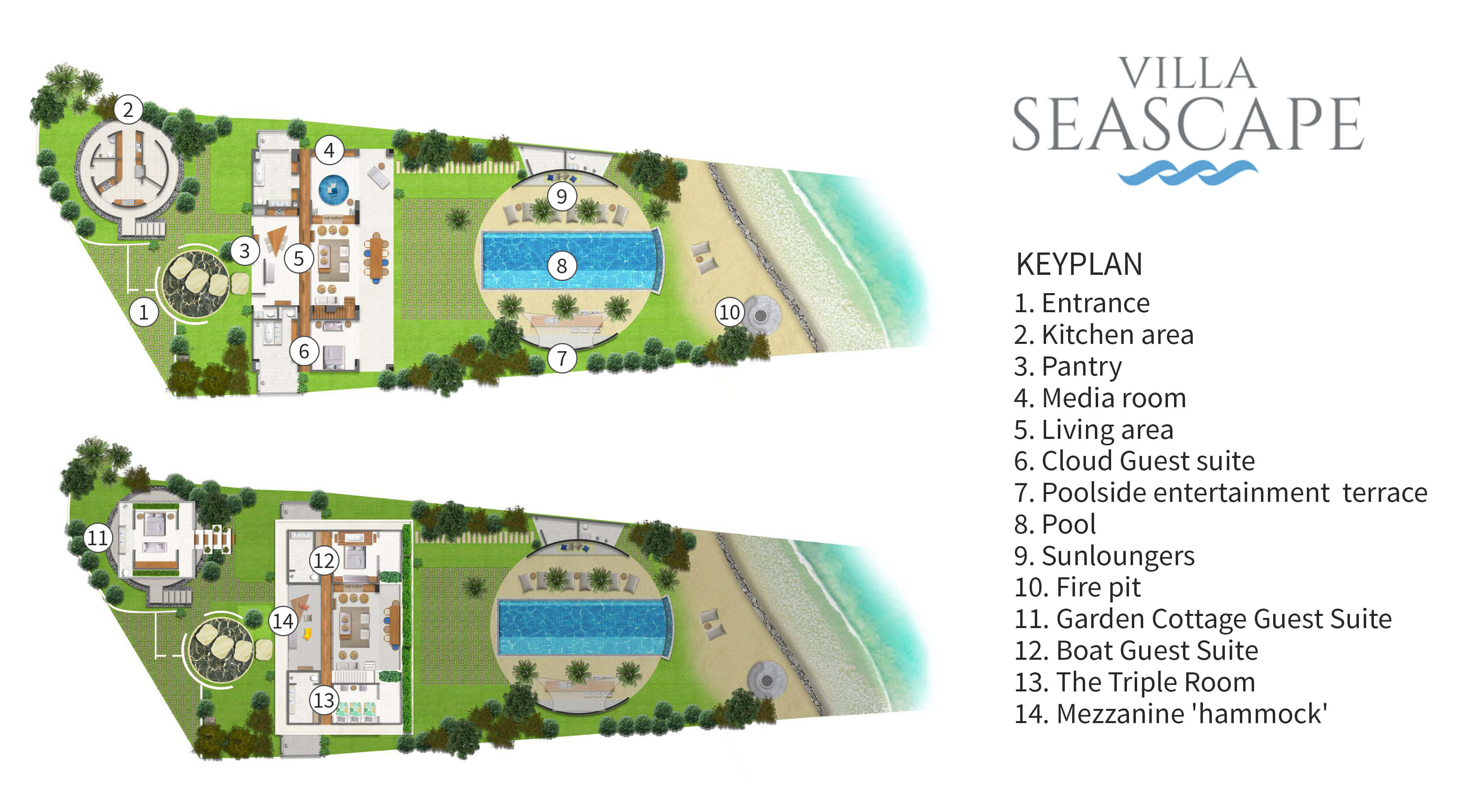 Download in high resolution
Living Areas
Living room
Cooled by ceiling fans and the sea breeze, Villa Seascape's soaring double-height living room is the villa's social heart. This impressive split-level space is designed with easy entertaining in mind. Glass doors fold back fully onto a double-height terrace where a dining table comfortably seating ten commands pool and ocean views. Within, clusters of contemporary modular sofas and woven rattan ottomans invite both sparkling conversation and quiet repose. The beautifully designed kitchen, with distinctive wedge-shaped island counter is slightly elevated and lightly screened behind columns of distinctive ceramic lamps. While it gives guests the convenience of a fridge, hob and coffee machine, the chef prepares meals in the staff kitchen behind the main villa building.
Media room
Massive bamboo-plaited doors to one side of the living room fold back fully to reveal the media room, where an enormous circular mattress piled high with cushions sits on the polished concrete floor facing a 260cm retractable projector screen. Midnight blue cinema-style blackout curtains mean you can watch a movie here any time of the day without the tropical sunlight intruding. To one side are pool-and-ocean views through sliding doors that open onto the terrace. Opposite, mirrored doors open onto a huge semi-open bathroom with walls of mirror and coloured terrazzo, statement blue terrazzo tub with rain shower above, and an alfresco shower in the courtyard. The media room can also be set up as a fifth bedroom if necessary.
Mezzanine 'hammock'
Accessed from the aerial walkway above the living area is a netting-floored mezzanine suspended like a huge hammock above the guest kitchen. This is the perfect spot for kids (and adventurous adults) to curl up on a pile of cushions and enjoy a good book or movie (there's a wall-mounted 52-inch TV with satellite channels and DVD player at one end), while keeping an eye on activities in the living area below.
Poolside entertainment terrace
This stunningly designed poolside space spills out beyond the dining terrace towards the spectacular 15-metre swimming pool. On one side, over-sized beanbags rest on the pebble-stone deck in front of a cushioned bench built into a gracefully curved coral wall. Across the pool is the pool bar where an elongated island of polished concrete and aqua-coloured timber stretches out under a sail awning, providing an outdoor kitchen and a sit-up bar counter for alfresco meals.

Inches away from the beach, semi-circular polished concrete seating curves around a fire-pit — the perfect place for sunset cocktails and after-dinner star-gazing.


Bedrooms

All five bedroom suites are light, airy, and beautifully designed, with floors of either polished concrete or smoothly ground pebbles, woven seagrass matts, and a restful aqua-meets-neutrals palette. Furniture includes comfortable beds with deep King Koil mattresses and quality cotton bedding, and among the thoughtful extras are reading lights, kimonos and slippers, and toiletries from renowned Bali brand Sensatia.
Garden Cottage Guest Suite
On the upper floor of the Garden Cottage, a super-king bed rests under a romantic white-crepe-tented ceiling before a wall of mirror that enhances the sense of space. Opposite, a comfortably upholstered sofa faces a 52-inch wall-mounted TV with satellite channels and DVD player; draw the gauze curtains to conceal it if you prefer. Lofty double doors of plaited bamboo slide back to reveal the open-sided, bamboo-screened bathroom with celadon porcelain basins and, behind curtains of hanging beads, the large shower enclosure.
Cloud Guest Suite
This bedroom is on the ground floor of the main house and delivers stunning pool-and-sea views from its king-size bed as well as from the terrace beyond a wall of bi-fold doors. Equally dazzling is the air-conditioned bathroom with its bathtub scooped out on one side of a terrazzo island, double basins decorated with stars, multi-hued terrazzo walls, indoor shower, and private garden courtyard with alfresco shower.
Boat Guest Suite
A surprising feature dominates this upper-floor guest suite: the statement sea-view bathtub set into a zen-style teak-wood platform behind the king-size bed. The view is even better from the private sun-trap balcony with neon-pink chairs. A pair of stylish bamboo chairs provides a space to sit and change in comfort within the bathroom, where blue and white basins sit on a terrazzo vanity facing trees through a bamboo screen, and beaded curtains camouflage the walk-in rain-shower.
The Triple Room
Ideal for kids or sharers, this second upper-floor bedroom suite has three single beds, two of which can be joined to make a double, and one of which can be used as a sofa. Two rope ottomans sit on the polished concrete floor that flows past floor-to-ceiling bi-fold doors onto a balcony furnished with a double chair facing the magnificent ocean vista. The bathroom continues the sea theme, with colourful twin sinks, a circular terrazzo bathtub and separate shower enclosure hidden behind a curtain of beads.
The Media Room
The luxurious media room has been designed to effortlessly transform into a stunning ocean-view fifth bedroom.